Saturday, April 25, 2015 - 4:30pm
Venue for this event:
Meyerson Hall, B-1 (Basement)
School of Design
University of Pennsylvania
210 South 34th Street, Philadelphia PA
(Corner of 34th and Walnut Street and across from Starbucks)
Please email srutiphila@gmail.com if you need any transportation assistance or sharing to attend this event.
Nagai Duo Carnatic Violin Duet Concert (Saturday 4/25):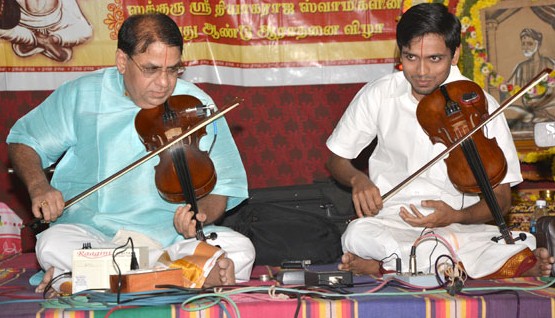 Srutii co-presents with Crossroads Music and University of Pennsylvania South Asia Center, a carnatic violin duet concert by Nagai Sri R. Muralidharan and Nagai Sri R. Sriram. Tickets for the Carnatic Vocal concert by Nagai Duo , on Saturday, April 25 at 4:30 PM are now available at sruti.tix.com . This event is free for Sruti 2015 Sponsors with preferred seating. (Please see below for Sponsor details.). Please note that there is a $5 online discount for general admission tickets bought at sruti.tix.com before the event. ($20 online and $25 on-site).

The duo will be accompanied by  "Sangeetha Choodamani" Sri Mannargudi Easwaran and Vijay Ganesh on the double Mridangam.



More information can be found at Sruti website . A review of Nagai Duo's  performance can be found at The Hindu   and a sample of their performace can be seen at WebIndia site.